Our Mission
Further Still Ministries was established to help believers in Jesus Christ enjoy an abundant relationship with their Savior. Believing that no matter where we are in our spiritual journey there is always room to know more of Him, Further Still Ministries exists to encourage and lead men to lives of depth and influence, becoming disciple makers out of the overflow.
Our Ministries
Further Still Ministries is comprised of a number of distinct ministries, including Thoroughly Equipped: a Disciple-Making Curriculum (DC) and Solid Steps Radio.
Please follow the below link to watch a short video about our Ministries.
https://vimeo.com/291547447/83b1caa495

Further Still Ministries encourages every family, and each family member, to venture further still in relationship with God the Father, the Son and the Holy Spirit. Whether your family is looking to be established and strengthened in the truth, giving all diligence to walking in God's ways, or is in need of God's hope, reassurance and powerful intervention, Further Still Ministries invites you to share in the journey.
Thoroughly Equipped: a Disciple-Making Curriculum (DC) is a 21-month program of Bible study, Bible reading, and Bible memorization for "higher-end" discipleship with a focus on lay-leadership development. "Thoroughly Equipped" is our goal—that "the man of God may be thoroughly equipped for every good work" (II Tim 3:17). What does that take? Knowledge, experiences, and skills; better theology, spiritual disciplines, and walking with the Spirit; a passionate vision for disciple-making; confidence and competence.
DC is meant to be a guided self-study—studying on one's own for about five hours per week and then working with a facilitator-led group—through material designed to enhance your walk with Christ and empower you to become a (more effective) disciple-maker.
Solid Steps Radio is a show to engage, encourage and equip men to ask tough questions of themselves, and to live out their destiny as men, by God's design. SSR airs on Saturdays at 10am on 94.7 FM. Please visit us at https://www.facebook.com/SolidStepsRadio.

For more information about the Solid Steps Radio program, please follow the below link.
Statement of Faith
We believe . . .
In one God in three persons: Father, Son, and Holy Spirit (1 Corinthians 8:6)
That the Bible is the inspired, living, and active Word of God (2 Timothy 3:16-17; Hebrews 4:12)
In a literal Heaven, a literal Hell, and a literal enemy, Satan (Revelation 20, 21)
That all have sinned (Romans 3:23)
That it is not God's will that any should perish but that all should come to repentance (2 Peter 3:9)
In the virgin birth, and in the sinless life, sacrificial death, bodily resurrection, imminent return and eternal, victorious reign of the Son of God, our Lord and Savior Jesus Christ (1 Corinthians 15:3-4; Philippians 2)
That anyone, by grace through faith in Christ, can be reconciled to God (Romans 1:16; 10:9-10)
In the regenerating power of God's Holy Spirit indwelling every believer (1 Corinthians 6:19)
In the bride of Christ, His church universal, called to unity
(1 Corinthians 12:12-14) In the personal responsibility of every individual believer to pursue an intimate, maturing relationship with the triune God
(Colossians 2:6-7)
Our Name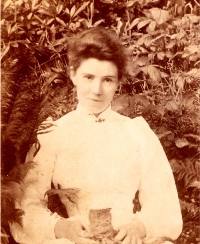 Further Still is a tribute to the life of Amy Wilson Carmichael (1867-1951), a single missionary to India. Amy Carmichael was one of Kristen Sauder's favorite saints of old. With selfless devotion Amy served Christ in India, rescuing children from temple prostitution and becoming a mother to the motherless. She spoke of journeying to the place of further still with her Savior. We long to follow her as she followed Christ, and to lead as many people as possible to the place of further still.
We are also seeking to equip, "heads of families, choice men, brave warriors and outstanding leaders" (1 Chronicles 7:40)
and exhort you further still to, "devote your heart and soul to seeking the Lord your God." (1 Chronicles 22:19a)