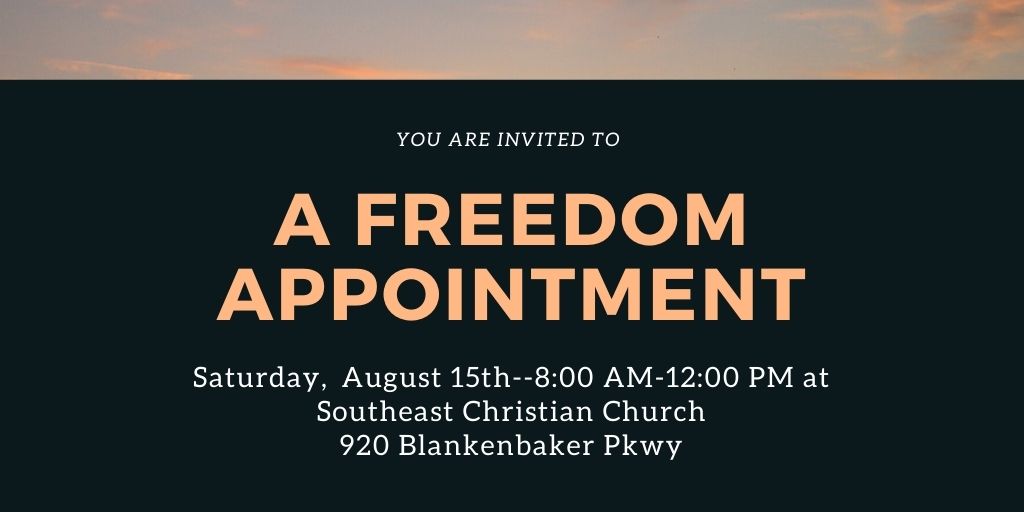 I would like to invite you to a special four-hour experience that will be like a spiritual spring cleaning!
We will take a look at seven areas of a person's life, and  you will be given time to reflect, remember, and examine– to have a really honest dialogue with the God who passionately loves you.
I have led hundreds of people thru this life-giving experience– and I hope you'll join us this time.
You will have a partner, so we can put you with someone that afternoon or you can invite a friend to join you and you can experience this Freedom Appointment together. (We will partner up men with men and women with women).
We will meet from 8:00 am-12:00 PM on August 15th at Southeast Christian Church campus (920 Blankenbaker Pkwy) –please arrive at 7:45 AM.
Bring a pen, a Bible, and a heart to grow in depth and insight!
The fee is $25.00 to participate in this event.  *This fee covers your booklet, refreshments and administrative fees.
Sign up by clicking on the below link:
https://www.signupgenius.com/go/20f0a4baaa82bab9-august
Hope to see  you there!
Blessings,
Kurt