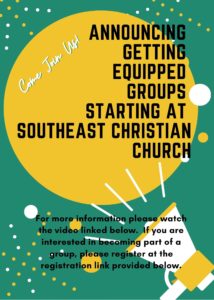 The following video link will provide you with more information about the Getting Equipped groups that will be starting soon….
If you are interested in joining a group, the following link will take you to the registration at Southeast Christian Church and provide you with additional information. https://www.southeastchristian.org/Registration/BBMensGE20
REGISTRATION DEADLINE IS August 31st!
I would love to see you there.
Blessings to each of you,
Kurt