Good Morning!
I hope each of you are enjoying the cool crisp Fall mornings and the beauty of the changing season.
As we enter into this season, I have a couple of upcoming events that I would like share with you and extend an invitation to you to join me at one or both of them.
The first is an event that requires a commitment on your behalf to a full two years of diving deep into who God created you to be and how we are to relate to him.  Soul Transformation Retreats are a series of getaways over the course of two years designed to explore and embrace the relationship that God desires with all of us. It is an invitation to come and rest in Him. Life has a way of slowly draining everything out of us until one day we wake up and realize we are living dangerously tired – not just physically, but deep down in the most sacred place of all: our soul.
For more information, please click https://furtherstillministries.org/events/soul-retreat/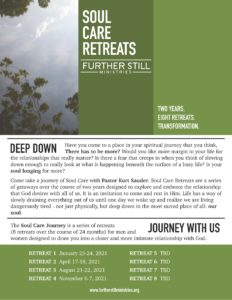 The second event is a series I will be leading at the Chapel in the Woods beginning on October 26th about Spiritual Warfare.  The series runs for 4 weeks (you may choose to attend one, or two sessions or all four) and does require registration so that we can adhere to social distancing mandates.
For more information, please click https://furtherstillministries.org/spiritual-warfare-series/

The link to register for this series can be found by clicking https://www/signupgenius.com/go/20F0A4BAAA82BAB9-SPIRITUAL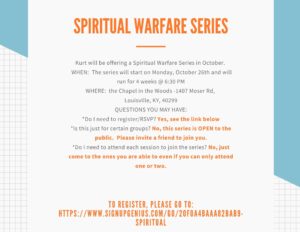 I look forward to seeing some of you at the events and if you have any questions about either event, please feel free to email admin4us@furtherstillministries.org.
Blessings to each of you,
Kurt